About YouGov Reports
We are at the heart of YouGov, drawing on the full breadth of our innovative research products and services to provide comprehensive market intelligence that you won't find anywhere else.
Through YouGov's proprietary panel of over 400,000 UK consumers, we collect our own bespoke data which allows us to pack our reports with typically ten times the amount of original consumer research found in other market reports. Highly qualified analysts use this data to deliver insight, market sizes, YouGov forecasts and brand analysis on the latest market trends and conditions.
If something changes in your market, our clients will be the first to know as our research methodology enables us to respond with new consumer insight immediately, and our online platform ensures this new information is delivered instantly to keep you on the front foot.
Our reports are market-led because we invite our clients to feed into the research process by suggesting survey questions, providing content and guiding us on what areas to research. We cover a wide range of sectors and we produce 'deep dive' reports that analyse specific issues in great depth.
Why choose a YouGov Market Intelligence Report?
Broad range of market intelligence reports covering over 1,500 topic areas across 300 reports
Online platform
Consumer opinions, attitudes and behaviours
Markt trends, growth and forecasts
Insightful, actionable analysis
Competitor intelligence and company innovations
Brand insight
International reports
You can extend your research with subscription / access to some of YouGov's other research services:
Daily fast turnaround omnibus
BrandIndex - our daily brand perception tracker
SoMA - our social media analysis tool
Opinions from influential Britons
Qualitative research
HEAT, our Household Economic Activity Tracker
View from our experts in industry sectors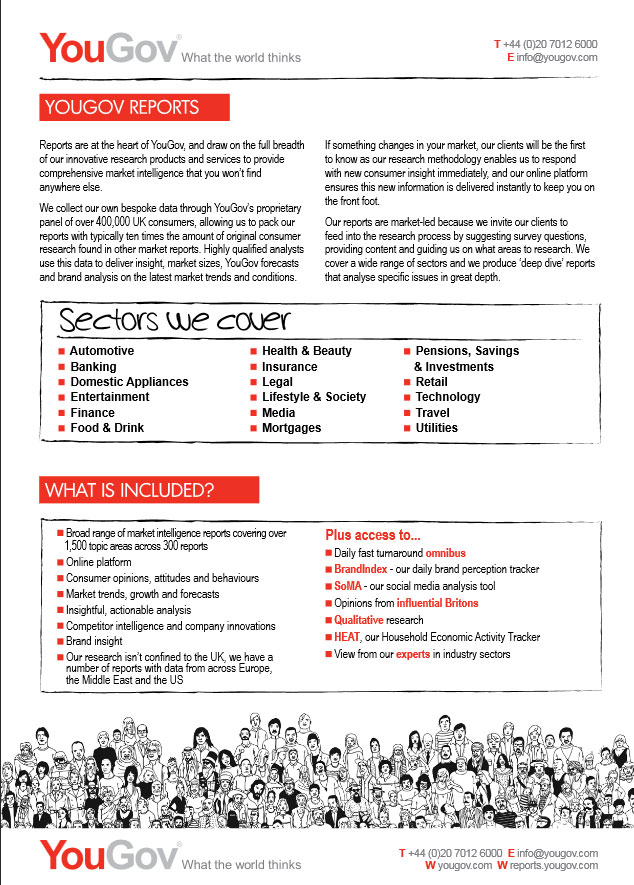 See our product card for more information
You can view a full list of reports online, or alternatively you can contact our team to discuss your needs.